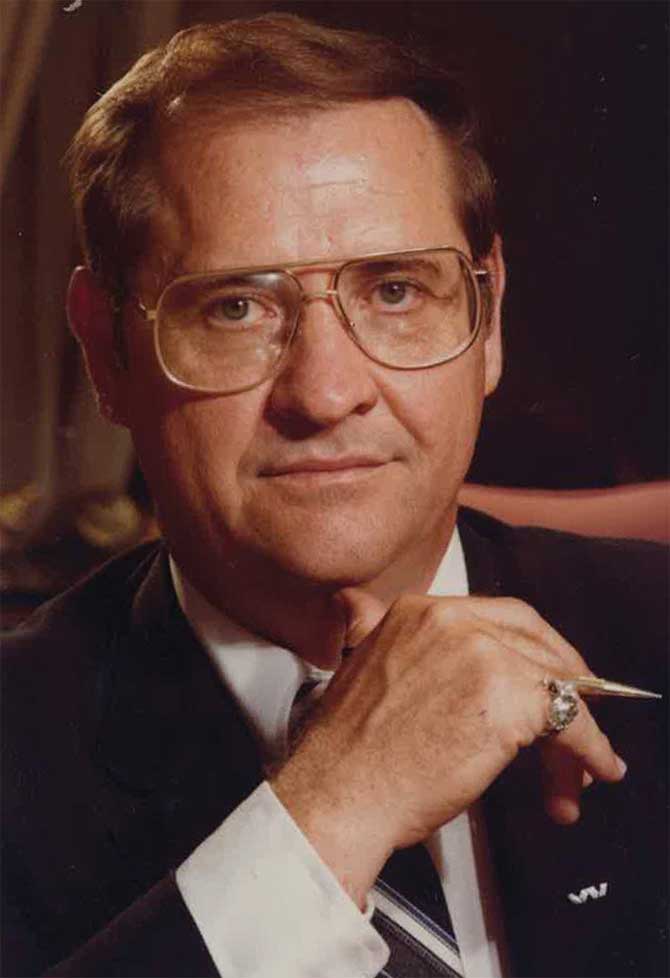 In this article for the New Mexico Bankers Digest, I would like to present a brief biography of senator, banker, philanthropist, high school dropout and GED recipient, Don Kidd. As many of you may be aware, Don lost his battle with pancreatic cancer on Aug. 28, 2020, at the age of 82. Mr. Kidd, as he demanded I call him at work, was the smartest banker I have ever known and my Grandfather.
Don grew up in Crowell, Texas, under very humble beginnings. He began working at the age of 10 in a grocery store earning $3.50 a day. Soon after, he began working for his father as a house painter earning $1 per hour. When he turned 14, his family moved to Wichita Falls, Texas, and Don decided to stay in Crowell by himself and continue to work for a drugstore, movie theater and grocery store. He decided to drop out of high school before his junior year to focus on work. His main goal was to someday get a job where he could wear a necktie. This dream became a reality when Don eventually joined the Marine Corps Reserves and moved to Wichita Falls to join his family. He took a job with a small loan company as a collector of defaulted loans in some of the seedier parts of Wichita Falls and later in San Angelo, Texas, where he met his future wife, Sarrah. On their first date, Sarrah accompanied Don on one of his collection routes.
After getting married, Don joined Pioneer Finance, where he could handle larger loans, and then to the Southwest Investment Company (SIC) as a loan manager. He quickly became the youngest branch manager in SIC's history. Don said this was one of the major turning points of his life because the job required a high school diploma. When he told his boss that he did not have one, he thought he would either be fired or passed up for the position. However, seeing his potential, his boss allowed him to take classes and eventually earn his GED. He said his fondest memory was getting a Christmas bonus at SIC that enabled him to buy his three girls Christmas presents that he otherwise couldn't afford. He vowed to provide the same bonus anywhere he was in management, and he kept that vow for over 50 years.
Don moved up the ranks of finance again when he was hired as the AVP, then VP and manager of the installment loan department at the Bank of Commerce in Abilene, Texas. He enrolled in the Southwestern Graduate School of Banking at SMU and graduated in 1972. He was incredibly proud of his SMU degree.
Don's career took another turn when he joined the Kipp-Rich Banking Group that sent him to Coradado Bank in El Paso, Texas, in 1972. Kipp-Rich eventually acquired an interest in what would become Western Commerce Bank in Carlsbad, New Mexico, where they made Don president and CEO. He would later serve as board member, president and CEO of many Kipp-Rich banks, including Alamogordo, Clovis, Las Cruces and El Paso. At one point, Don was in charge of nine different banks at the same time. Over many years, Don took advantage of opportunities to purchase an interest in these banks. He said he would borrow as much money as anyone was dumb enough to lend him and then pray he could make the payments. Sarrah remembers still feeling very poor even when Don began making a decent wage because all of their money went to bank stock loan payments. This turned out to be a great decision because Don later became the majority shareholder of many of the Kipp-Rich banks when Jack Rich eventually declared bankruptcy. Don always credited his success to Mr. Rich because of the opportunities that Mr. Rich gave him.
Western Commerce Bank was always Don's pride and joy. When Don took over, the bank had $14 million in assets. At his death, the bank was worth nearly $600 million. Under Don's leadership, the bank earned an ROE of 20% or more for over 30 years. Don always said his goal was to earn the same as a bank twice as big, regardless of his banks' size.
One of Don's proudest accomplishments was being appointed to the Board of Regents at New Mexico State University, where he was the first and only high school dropout to serve as a regent. He served as a regent for six-years and considered it to be one of the best learning experiences of his life.
In 1992, Don became a Republican State Senator for District 34 in a narrow election that had been a Democratic stronghold for many years. He served in the New Mexico Legislature for 12 years, where his list of accomplishments was impressive. Don's most memorable accomplishments included co-sponsoring the Lottery Scholarship that has provided well over 100k in college scholarships to young men and women across the state, and co-authoring New Mexico's law to protect citizens from predatory lending. Don always said, "It is amazing what you can accomplish when you aren't concerned with who gets the credit for it." Don was known for reaching across the aisle to work on important bills for all New Mexicans. Some of Don's closest, life-long friends were his democratic colleagues.
Don has served on countless other boards, committees, professional organizations, associations, etc. His accomplishments in the public sector are too numerous to list. However, I should mention that he served as the New Mexico Banker's Association President from 1990-1991. During his tenure as president, a familiar man named John Anderson applied for the position of executive vice president. After the board voted, Don told John jokingly, "Well, John, it was between you and the secretary, and you barely pulled it off by a 5-4 vote!"
Don always had an inferiority complex as a high school dropout. Because of this, he spent nearly all of his free time reading. Don kept every book he ever read and eventually had to build his own library that now has thousands of books on every subject you can imagine. Don was so grateful that he could read and attributed reading to much of his success. He was truly a self-educated man. This is why literacy and education were his main passions. He did not believe in giving anyone anything other than education and opportunity. He would often say, "I don't believe in luck." and, "Luck (success) is where opportunity meets preparation." He also said, "If you have the ability to read and comprehend, you can prepare yourself to take advantage of any opportunity that might come your way, regardless of your social or financial status." He used to say that there is no excuse not to educate yourself. The local library provides books for free and anything you ever wanted to know is in a book somewhere. He would laugh and say that he grew up so poor his Momma had to get the Bible from the library.
Over his lifetime, Don gave millions of dollars to charity. Most of the time, he requested that his donations remain confidential. He did not want recognition because, as he would always say, "Recognition is not the reason you donate." When he would be recognized, he dreaded it. The only donations he gave where he did not mind acknowledgment had to do with literacy and education. Some of these donations were to establish the Don and Sarrah Kidd Scholarship Fund and a Chair in Literacy at NMSU.
His work and donations in education came full circle when he received an honorary doctorate from NMSU in 2006 and gave the commencement speech at my college graduation. He even handed me my bachelor's degree on stage. One part of his speech that I will never forget is when he said, "A college degree is not a vaccination against ignorance," and "Learning is a lifelong endeavor." In 2017, he received the NMSU Presidential Medallion.
On the more intimate side, as a man, my Grandfather was a complicated individual. Even though he was very generous, he was also very shrewd and, at times, very hardened. Anyone who has ever worked closely with him would tell you that he was a great boss and a great teacher, but he could be incredibly difficult to work for at times. He expected his employees to have the same dedication and work ethic as he did. He was an old-school, no-nonsense type of individual. However, he did have a cunning, dry sense of humor. He was well known for his West Texas sayings, some of which could be inappropriate at times. He could use a one-liner to change the tone of very stressful situations. Those who knew him will tell you that even though he would be joking, there was a lesson he wanted you to learn from the joke.
My Grandfather's genius was his uncanny common sense, ability to think outside the box and his deep understanding of human nature. He could take very complicated subjects or situations and simplify them in one or two sentences.
My Grandfather was also ahead of his time in advancing women in the workforce. Today, numerous women leaders across New Mexico and beyond hold very influential and important positions both in the private sector and in government. For example, 90% of the employees at Western Commerce Bank are women, and Western Bank of Clovis is 99% run by women.
When my Grandfather was close to death, he told me that he had read somewhere, " 'As you go through life, you should leave tracks,' and I hope I was able to leave some tracks." After his death, my family and I received hundreds and hundreds of letters, emails and phone calls from people across the state and across the nation that had at some point in their lives been taught, helped or influenced by him. To say the least, it was very touching and humbling to hear the countless stories of how my Grandfather impacted all of their lives in some way. Granddad, you definitely left tracks!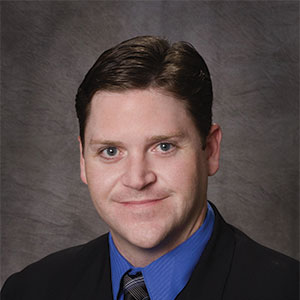 Jason Wyatt
NMBA President